Smartphone Game App Helps Workers Practice Safety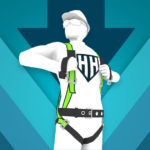 There's a new smartphone mobile game available on the market and it's dedicated to construction workers, especially for those who are, or will be, working at heights. Harness Hero was created to allow workers to practice setting up fall arrest systems in a creative and enticing way, not to mention fun!
The mobile game was developed with the guidance of safety certified professionals from across the construction industry. This game allows players to engage with the key decisions one faces when using a fall arrest system.
Harness Hero was built in partnership with the Master Builders Association of Western Pennsylvania and the Construction Association of Western Pennsylvania. The United States National Safety Councils notes that the game can help save lives "as it helps workers practice the proper way of strapping themselves up for working at heights." Ultimately, the goal of this game is to reduce injuries and fatalities related to falls and improper use of the fall protection safety equipment.
"At each step in the game, the player chooses where to anchor, what anchorage decide to use, how to set up the harness, what connection device to use, and so on. The player also inspects the equipment along the way for burns, rips, rust and other malfunctions. At the end of each play, the player encounters a fall and depending on how well they did setting up their fall arrest system, the player will either witness a rescue or a severe injury or fatality." Harness Hero is a Simcoach Skill Arcade app. The Simcoach Games company designs games that help workers practice basic job skills and earn badges to gain exposure to careers and training opportunities, how innovative!
There are two versions currently available on the market, one for construction workers and the other is particularly made for those who construction bridges. The game is available on both Google Play store and the Apple App store, at no cost.
For more information on this app please visit Simcoach