Painting Asphalt White?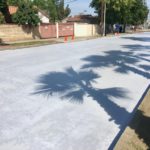 Everyone is used to the traditional looking road, paved with asphalt that looks dark as night. This colour choice, in warmer climates such as Los Angeles, leads to what experts refer to as concrete baking, which is only expected to get worse and worse as more buildings and roads are developed.  Concrete baking, in these warmer climates, is a genuine concern for city officials, and as a result constituencies in the San Fernando Valley, where temperatures regularly reach upwards of 35 degrees Celsius, have tried to reduce the impact of concrete baking by utilizing "cool pavement".
Cool pavement is essentially just ordinary pavement that is coated with a lighter colour paint that effectively serves to increase the amount of light that the surface reflects. Test results have consistently indicated that this colour choice leads to a significant reduction in the surface temperature of the roads, which in turn reduces the impact of heat waves, air pollution and concrete baking. The process of painting the roads a different colour costs approximately $25,000 to $40,000 per mile of road and will last five to seven years. These costs are subject to change, however, as the innovation of both the product and application continue to progress.
Canada cannot be said to share the same climate as that of Los Angeles, and so it's hard to imagine Canadian roads being painted white in the immediate future. That is not to say, however, that the innovation has no promise for Canada. As the costs of the innovation decrease, it can very well become a feasible solution to solving the uncomfortably hot summer days in places such as downtown Toronto, Ottawa, and Montreal. The white paved roads also have the added benefit of reducing the overall cooling costs in the area that they are installed, and thus the paint could effectively pay for itself given enough time. With all of that being said, it is by no means guaranteed that you will be driving on white roads in Canada in the near future, but don't knock the idea entirely. If the idea gains traction and momentum in warmer climates such as LA, it might not take very long before Canadians see road crews painting their downtown roads to keep them cool on hot summer days.