REVOLUTIONARY COMPOSITE STEEL FRAME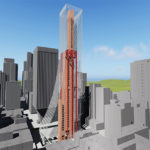 A new downtown skyscraper, projected to be the second tallest skyscraper in Seattle's Rainier Square, is set to be built using a new core system that utilizes a tied dual-plate shear wall field-filled with concrete and no rebar.
This innovative building method is set to shave a total of nine months off the project's projected timeline.
The frame system was developed by Magnusson Klemencic Associates, and its ability to cut up to 40% off the construction time of projects has sparked talks of the innovation being an industry game changer. The composite steel frame system consists of two connected steel plates around a cavity with high-strength concrete.
This is instead of the traditional reinforced concrete core that has been the preferred method of construction for Seattle's skyscrapers because of its ability to brace wind and seismic loads. The former method, however, is slow because the rebar-reinforced concrete cores take three to four days per floor to complete, and steel framing for each floor is contingent on the completion of the concrete work being done first. Magnusson Klemencic's method, alternatively, allows for the steel modules to be prefabricated off-site, which means there is no waiting for the concrete core to be completed; additionally, the new process also removes the need for the installation of rebar and formwork which saves additional time. This innovative and significantly more efficient process is the key to the building method's time-saving qualities and will allow construction companies to complete projects faster with an unwavering level of safety, functionality and quality.