Transforming Walls into SmartBoards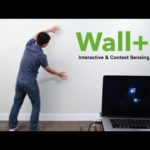 Smart homes are becoming increasingly popular around the world. The worldwide market for a smart building is expected to grow from $5.73 billion in 2016 to $27.43 billion by 2021.
The newest development within the world of smart home technology is that of smart walls. The technology is effectively an extension of the whiteboard technology that many students are used to seeing in modern classrooms today.
A team of researchers from Carnegie Mellon University are able to transform walls into smart surfaces by using conductive paint and an electromagnetic sensor, which will allow users to adjust room brightness or track use of electric appliances. The researchers named the smart surface Wall++, which has the ability to operate in two modes. "Capacitive Sensing", which allows the wall to operate as a touchpad and "electromagnetic sensing", which effectively makes the wall track down any electromagnetic transmission of electric devices in the room. This feature extends to both electromagnetic impulses emitted by electronics such as stationary televisions, or portable devices that can be worn or held by a user in the room.
The wall would essentially allow homeowners to get rid of all of their light switches in their walls because the capacitive sensing mode would make adjusting the lights possible by just touching the wall. Furthermore, the electromagnetic sensing mode would allow the walls to detect if electronic devices such as the TV are turned on, which could then prompt the automatic response of dimming the lights.
The applications of this technology are absolutely limitless, and it's very affordable and energy efficient. The researchers estimate that the technology would cost, in its early infancy stages, about $20 a square meter.
Additionally, the walls would consume no more energy than an ordinary touchscreen. The technology is also completely installable in homes that have been designed without the intention of installing smart walls. The process is no more invasive than that of repainting a room, so it's completely feasible that this innovation can be adopted by the masses.