Hard Hat 360 Job Site Mapping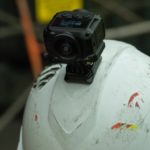 OpenSpace, a Silicon Valley-based startup, has recently launched a new artificial intelligence program that can dramatically cut the time it takes contractors to photograph job sites and share the progress being made with the key project stakeholders.
Users of the software simply have to mount a consumer camera on to their hardhats, and as they walk through their job site throughout the day, the camera collects footage. OpenSpace's innovative software then pieces the footage together into a 360-degree panoramic map in a very similar way to Google Street View. The software essentially allows a job site worker to go about their usual day to day activities whilst at the same time collecting valuable footage, which otherwise would have had to be compiled by a designated job site photographer.
https://openspace.ai/
Furthermore, the product can be used without any formal training, special infrastructure or extra requirements. It is also important to note that the virtual record of the job site that the product creates, makes the need to have architects visit the field obsolete, creating additional savings for contractors who choose to use this virtual mapping technology.
A virtual record can also be used to compare progress from images taken days, weeks or months ago; as well as allowing contractors to see, in a split-screen view, images of a location taken at different phases of construction.