From Elevators to Skypods: Redesigning the Modern City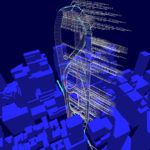 PLP Architecture, a London based group of architects, designers and thinkers have revealed their latest design for SkyPod. The project proposes replacing traditional vertical elevator shafts with a multi-directional transport system on the exterior of the building. Deviating from the standard vertical transport method, which has been the driving force behind the shape and appearance of modern cities, will allow for unprecedented architectural designs. PLP believes the system could twist and turn on the outside of buildings, and the track that the pod will run along could be laid diagonally, branch off, or merge with other tracks. Furthermore, the pods would function autonomously and travel in an endless loop which could serve to reduce waiting times.
SkyPod is based on the application of magnetic levitation, in the same way it has been applied to magnetic running trains. The pods would be digitally stabilized and would essentially function as gyroscopes, which means its floor would always remain in a horizontal position. The unique pathing capabilities of this transport system would also mean users would be able to travel from point to point without having to use connecting walkways to get between separate towers. The pods would also provide unparalleled city views to the users inside because it travels along the exterior of the buildings. Although the SkyPods themselves would only serve to directly impact the method of transportation users have access to in skyscraper buildings, the indirect implications of the application are what are most exciting from a construction standpoint. The fact that architects will no longer be bound by the vertical structure that has been essential in modern buildings, will open doors to new, innovative designs that could totally transform city images.