Stronger and Transportable! New Composite Girder Bridge Design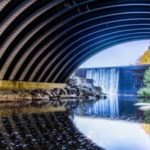 Engineers at the University of Maine's Advanced Structure and Composites Center have developed a new composite girder bridge system. Inspired by the Bridge-in-a-Backpack system, which is a set of components that can be hauled in a bag, and quickly assembled into an arch bridge. The arch bridge design is a rather uncommon bridge structure design, however, and so Habib Dagher, executive director of the Center, undertook the project of developing a composite girder bridge system along with his team of engineers; a much more common design.
The team has created an easily transportable and more than twice as collapse-resistant as typical concrete or steel girder bridges! The system is comprised of lightweight, composite girders that connect to precast concrete panels. The frame can then hold a deck segment and connection system on top of them and be grouted within a few hours. Dagher did not disclose the proprietary composite blend that they use, but claim that the materials are being used in a way "they have never been used before". The girder itself is designed to last 100 years, however, the bridge deck will likely last 40 to 50 years depending on the climate. Notably, the bridge's unique connection system allows contractors to pull the deck out, and put on a new deck without having to jackhammer the concrete like you typically would.