The Latest in Emerging Drone Technologies & the Future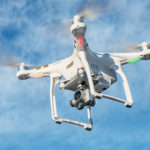 Drones, wearables, and bricklaying robots: These are just a few of the new, cutting-edge technologies that are being praised for the construction job site. Within all of these areas, technological determinism is quite underway. Technologies constant development and growth are providing the Canadian Construction technology market with the opportunity to adopt, and integrate, new tech, post-trial phases without worry. So, why should you start now?
It has been projected by the International Data Corporation (IDC)  that worldwide spending on robotics and drones alone will grow 19.6% between 2017 and 2022. "Spending on robotic solutions will account for more than 85% of all spending, with industrial robotic solutions accounting for the largest share of robotic spending." Keep in mind, drone spending is growing at a faster rate than robotics, with enterprise drones representing more than half of all drone spending, IDC reporting that the construction industry worldwide will take the top spot for drones use!
With all this being said, it has been foreseen that the construction industry will lead the market with the adoption of drone technology and this points to a new trend altogether: venture capital funding is shifting from a focus on hardware to a new focus on software and services that will make drones more useful.
For construction companies, this means a number of new solutions will become available, leveraging drones easier, and giving contractors new tools at the construction job site.
The Canadian construction industry is already seeing new trends emerging. DJI (one of the leading manufacturers of drones, worldwide), has recently enhanced its offerings for the enterprise with a new geofencing system that uses GPS and other navigational satellite signals to automatically stop drones from flying near private, 'no-fly' zones. Another great example of the developmental growth for DJI includes its addition of thermal imaging solutions for their M200 series of drones. This new imaging system allows users to plan and execute a flight, while the imagery from the camera automatically uploads to the cloud, thermal maps. Construction professionals can either fly autonomous surveys or fly manually, whilst tapping any part of the iPad screen to get a temperature reading of a specific area.
Aforementioned are just two of many cases of how software development is advancing exponentially the area of drones. Similar growth and developments are occurring in the robotics industry as well, as the cost of deploying robots are significantly lower than hiring labourers.