Building Bridges Into The Future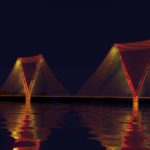 Artist's conception of a split-pylon bridge with 5km spans. Credit: Helen Fairclough
We're always looking for ways to build structures bigger, better, and faster. Bridges are no exception to this rule, but even the most advanced suspension bridges face limitations. The current record-holding bridges have spans (the distances between bridge towers that are held up) that are a little under 2 kilometres long. The longer the span, the longer the bridge. Challenges arise, however, as the relationship between span length and the mass needed to hold the bridge up increases non-linearly. After a point, bridges must dedicate significant proportions of their mass holding themselves up. For bridges to get extremely heavy, they need a lot more building material in the first place, and that drives up their total cost and their cost per kilometre.
There are some obvious paths forward: Just use stronger and/or lighter materials. Yet it's hard to beat both the capability and the low cost of steel and concrete. Carbon fibre reinforced polymers are already pushing the envelope in this arena, especially as retrofitting and maintenance additions, but as materials, they are still much more expensive.
Researchers at the University of Sheffield recently published a paper in the Proceedings of the Royal Society A, detailing novel bridge forms that could increase bridge span length without the use of new materials. By combining 19th-century bridge building models with 21st-century mathematical optimization models, the team was able to identify bridge concepts that minimize the volume of building material required. Less building material means savings on mass, and those efficiency savings could translate into longer bridge spans, and thus newer, record-setting length bridges.
The study considered a hypothetical suspension bridge with 5km spans, well above today's record holders, and compared it to their optimized bridge model. The conventional suspension bridge would require a whopping 73% more building material than their reference model. The study also explores a "split-pylon" bridge form that reduces material requirements even further.
But the research is far from done, and future studies are required to tackle other aspects of this complex domain of civil engineering. Yet, in addition to better and better building materials, these novel, mathematically optimal bridge forms may someday rise up in future, massive sea-spanning bridge projects.