Save Time with Smartphone app LoadDocs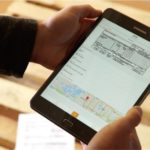 In an industry where the labour is imagined as highly physical, there's still plenty of paperwork, and a lot of that needs to be filled out on the go. Eventually, documents need to be digitized for a variety of purposes, such as sharing or backup.
You've just had some labourers fill out and sign mandatory safety forms. Now you need to take them all back to the office, scan each one, organize the scanned files on the computer, and share them. It's a fair bit of work. Maybe you're a little savvier, so you pull out your smartphone and aim its camera to snap a photo of each of the forms. The pictures come out tinted yellow, blurry, distorted, and off-center. Maybe that's enough for crude backup purposes, but cleaning things up requires using editing tools on your smartphone or another device and working through each photo one by one.
Silicon Valley company GoConvoy Inc have just the app to tackle this kind of tedium and save you some minutes better spent on something more productive. That app is LoadDocs, and its specialty is automatic image detection, correction, and cloud-syncing. LoadDocs works both offline and online, and its powerful image recognition is another win for machine learning algorithms. Within the app, a worker can snap a photo of a form, and LoadDocs will automatically use its computer vision capabilities to crop, rotate, and colour-correct the image, improving quality and legibility. Construction worksites aren't often the best spots for impromptu photography.
LoadDocs Chief Operating Officer, Brian Belcher, described his app. "LoadDocs helps construction companies go from 'project completion' to 'invoiced' in minutes."
This isn't an app that revolutionizes the construction site. Rather, it's one more potential time-saving tool in your belt, one part of a never-ending progression towards higher efficiency. Belcher continued: "We've designed LoadDocs to remove one of the pain points of the construction industry. As companies explore what the system can do for them, they'll discover lots of ways to speed up workflow and increase efficiency."
LoadDocs requires a monthly subscription for each user, so maximizing benefit-per-dollar would mean picking out employees that perform these tasks most often, and allowing the app to accelerate their workflow. With that subscription, the app gives the user other benefits:
Unlimited Cloud storage space for paperwork image uploads

Geotagging: The app will record where and when uploads took place

Store images offline if there's no network connection, and automatically sync to your office when a connection exists

Share paperwork more easily

A commenting system

A Web portal, where users can view documents online
The app is available for both Apple and Android devices, with the relevant app store links below:
Google Play Store: https://play.google.com/store/apps/details?id=com.convoy.loaddoc
Apple Store: https://itunes.apple.com/us/app/loaddocs/id1041596066