6 Drone Pre-Flight Tips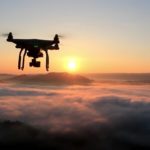 The steps toward integrating the drone seamlessly into your construction firm may not be as straightforward as some may expect. Most times companies invest in drones to improve the productivity of a company when starting on-site scouting, surveying, data analysis, progress reporting, inspection, improving safety records, all the way to the finishing touches of a construction project.
Many drones can fly autonomously around, using a collection of sensors to navigate their environment in real-time. Hugh McFall of 3DR, a drone technology company headquartered in Berkeley, California commented: "Put simply, new technologies, including drones and other robotic tools, have quickly become just another tool on the job site — and that's exactly how it should be."
Construction professionals can now fly drones around their construction sites multiple times a week, generating high-resolution 3D models of the site to aid in the short term and long term planning, as well as issue resolution.
A recent edition of the construction newsletter CONEXPO-CON/AGG 365 highlighted some tips for getting your new construction drones in the air smoothly:
Create a corporate or project budget.

Stuart suggests that it is important to specifically dedicate resources to adopting new technology. This includes both people and money.

Create a mission and set goals

. He adds to consider having objectives created at the top level of an organization that aim to find a way to use new technology to directly impact the future of the business. This can include things like making bids more competitive, reducing costs, or improving safety. Once it is decided what is going to be accomplished with new technology at a company level, it will ultimately trickle down.

Pick a champion.

McFall of 3DR says this person will need to lead adopting new technologies and expanding them across project teams. Stuart adds that this should be supported by management to ensure that teams actively seek out and implement new solutions. He points to the examples of Hensel Phelps and DPR that both have corporate councils in each region that try out different technologies and check on a nationwide level to share what they're testing out and what they've learned.

Implement a preflight checklist for drone pilots to follow.

This can include everything from checking the equipment prior to flight to what needs to be done after. This will help them minimize risk, improve documentation, and ensure they are flying safely, according to McFall.

For some, the next step is to pick a trial project.

This will enable a company to check against objectives and make adjustments as necessary until the implementation of technology is successful.
Finally: expand to other projects, but use the first as a golden example to ultimately train and establish corporate best practices