Catch Flaws in Concrete Design using AR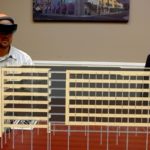 Rob Heagy, director of drafting services at High Concrete Group LLC, looks at an augmented reality model through a Microsoft HoloLens.
Augmented Reality 1 - Birds 0.
High Concrete Group, a concrete company in Pennsylvania has operated for nearly 50 years in the precast industry. Recently, High Concrete was working with an architect on a Villanova University bridge when their Augmented Reality (AR) implementation spotted a problem. It was revealed that a design flaw in the bridge would allow our avian friends to nest away. It's an example of a small oversight that could nonetheless lead to additional costs, delays, or client dissatisfaction.
High Concrete used the Microsoft HoloLens to display a high resolution 3D model of the bridge overlaid on a live view. The architect stated that without the HoloLens, he would not have spotted the flaw.
Embracing AR and virtual reality (VR) opens up novel methods for quality control and progress monitoring. Microsoft HoloLens isn't cheap, with each unit ranging in price from $2,000 to $5,000, but High Concrete has started integrating the mixed-reality headset into quality control for its projects in the past year.
"We wanted to give our customers an enhanced experience in seeing their projects," Thomas Beam, 3D building information modeling specialist at High Concrete, said.
It's not just architects that can benefit from viewing their designs in AR/VR. Project owners, executives, and contractors may not be able to visualize the project in real, 3D space as easily, and so the benefit of the headset is even greater.
The value of AR/VR also goes well beyond spotting nesting spots for birds. The American Society of Safety Professionals (ASSP) recently unveiled their VR Fall Protection Experience app at the Safety 2018 convention in San Antonio, Texas. Here's a video of the app in action. It will take more time, research, and investment to diversify the portfolio of AR/VR use cases, but companies such as High Concrete are already enjoying benefits in 2018.
Source 1 | Source 2 | Source 3