Innovation Can Combat Construction Struggles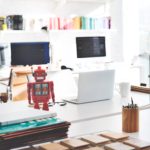 New technologies of the 21st century are making their way onto the construction site, boosting workers' efficiency and safety, while also saving businesses time, money, and waste. A SoftwareConnect survey from 2017 asked 158 construction industry professionals from small and medium-sized businesses in North America about their current and hypothetical future technology usage.
The Drones Are Coming
18% of the professionals surveyed already use drone technology for mapping and inspection purposes, while another 8% expected to incorporate drones in the next few years. The steady encroachment of drones makes simple economic sense: the entry price for drones continues to fall, and a drone can fully map a building in orders of magnitude faster times than a traditional site surveyor (or better still, work with a surveyor to enjoy the advantages of both).
Robots and other Autonomous Equipment
24% of industry professionals said they will be implementing autonomous equipment in the next few years. Going beyond drones, there are other types of robots that can aid or replace humans in some of the most dangerous tasks on the job site. It's worth noting here that one in five total private sector worker deaths come from construction. Any technology that can successfully insert itself into these situations and create a safer environment stands to save not just money and time, but human lives. Monotonous human tasks can also be phased out, for instance with brick-laying robots.
Augmented/Virtual Reality Trends
At $5000 USD, augmented reality headsets like the Microsoft HoloLens and their associated hardware and software are still cost-prohibitive, and only 10% of respondents saw their companies adopting the technology by 2020. Such headsets can enable experts to view their construction projects as a realistic 3D model, improve communication between engineers, architects, and managers, and synergize well with other technologies such as drones and robots, it is still a large investment for what can be seen as peripheral benefits. Although, the company that caught design flaws in their bridge early are probably thinking the HoloLens is loose change by comparison.
3D Printers
Conceptually, 3D printers could revolutionize more than just industry or manufacturing, they could become a household appliance as common as a dishwasher or refrigerator. The technology hasn't quite caught up to the hype, as the types and quality of materials, and complexity of objects craftable by 3D printers still needs improvement. Only 4% of those surveyed use 3D printers, and by 2020 only 11% plan to have adopted the technology.
Construction Management Software
56% of construction industry professionals use some form of Construction Management Software (CMS). This represents a significant minority of the market still untapped for engineers of CMS software. The top three most sought-after features in CMS were: project tracking, job costing, and project estimating. The most important consideration for buying CMS was ease of use. Software is coming up against good old paper and pen, and needs to go well above and beyond old, reliable technology to be deemed worthy. Appropriate usage of CMS can help streamline the project, scheduling, communication, and reporting, but employees do need training in their use.
Source(s):
Source 1 | Source 2 | Source 3 | Source 4 | Source 5 | Source 6