Living Roof creates Biodiversity in Construction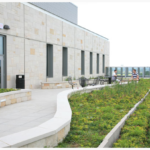 LiveRoof Standard installation at the Grand Valley State University Library offers natural stormwater management and a pleasant outdoor study environment. (Link: https://www.liveroof.com/slide/liveroof-standard/)
Installing green roofs on our towering islands of steel and concrete has a number of benefits. Studies have shown that green roofs reduce temperature, conserve energy, lower utility bills, absorb stormwater, increase biodiversity, filter pollutants and greenhouse gases, insulate against sound or wind, and they can add aesthetic value as well. The list of benefits form a veritable laundry list, but it is important to note the cost.
The initial cost of a green roof is higher, up to double or triple, that of a regular roof. A poorly installed green roof can incur substantial maintenance costs, although what poorly installed anything doesn't? It is worth pointing out that properly installed green roofs incur little or no maintenance costs and have an extremely long lifespan, up to 50 years or more. Many of the disadvantages can be selected for by choosing the right type of green roof for your project.
If the main disadvantage is cost, well… How does that old Greek proverb go?
"A society grows great when old men plant trees whose shade they know they shall never sit in." Broad wisdom that can apply to many things, including roof choice!
The people are LiveRoof aim to provide custom-tailored green roofs for each unique construction project. Their mandate says it all:
"Our Mission at LiveRoof is to provide the best functioning, best looking, longest-lived, easiest maintained green roof on the market. Our system is unique in design and function. It is intended to last indefinitely, grow healthy-sustainable plants, complement the architecture, and function in concert with all roofing systems."
LiveRoof modules are manufactured exclusively in the United States from 100% recycled plastic, and when it does come time to disassemble green roofs, they are often highly salvageable, which is something to keep in mind that offsets the cost of initial installation. All of that checks off a lot of boxes from an environmental point of view as well.
LiveRoof Green Roof Systems offer a hybrid system with four preset starting points: Lite, Standard, Deep, and Maxx. Lite roofs begin with a two-and-a-half foot deep installation that are ideal for retrofitting on older buildings with more limited plants, while the Maxx roofs begin at 8 feet deep that support much higher drought resistance and higher biodiversity plants like perennials, grasses, vegetables, and even vines and shrubs.
Installation of a LiveRoof goes something like this:
The recycled plastics LifeRoof Module and Soil Elevator form the foundation. This elevator allows for seamless drainage across the entire LifeRoof module, so that all of the plants can share water, nutrients, and biodiversity across the LifeRoof.

The engineered soil is added in and settled, according to the ideal requirements for the installation and plants to be grown in it.

Plants are grown to maturity within each Module, which in the small varieties can be carried by hand!

The LifeRoof Modules are delivered to the roof, installed onto the roof, and then the Soil Elevators and artificial edges are removed.

The entire, combined green roof is watered to settle everything again, and voila! A green roof!
With installation complete, your building roof now contains a seamless, green, mini-ecosystem that will knock LEED criteria out of the park, pun intended. Your roof may be a literal park now. Longevity of such an installation remains a concern for the skeptical buyer, but in the case of LiveRoof, their installations are under warranty for 50 years in the US and Canada.
Sources: