Humanoid Construction Robot Hangs Drywall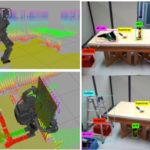 The HRP-5P humanoid robot gingerly carries a piece of drywall for installation. Credit: AIST on Youtube. (link: https://youtu.be/ARpd5J5gDMk)
The Japanese National Institute of Advanced Industrial Science and Technology (AIST) released a short video of their new robot installing drywall. It's still slower than an expert human, but it's difficult not to be impressed by how precisely and carefully their robot slides the drywall off a stack, picks it up, carries it over to the wall, and then holds a Hitachi cordless driver to install it in place. In another 5 or 10 years of improvements, what will they be installing next?
The robot is HRP-5P, a 1.8m, 101kg humanoid robot prototype that aims to improve the practical application of robotics for construction assembly tasks. A whole host of complex technologies, including object recognition and motion planning, come together to realize autonomous execution of drywall installation. A heavier bot, HRP-5P is seen easily manipulating 13kg at all points of installation.
While the technology isn't quite up to replacing humans, that's not out of the question in the far future. For now, prototypes like HRP-5P are demonstrating that in the not too distant future, in specific projects where floors upon floors of wall studs lay bare and labour shortages abound, it may be time to employ a robot or two to speed things up. With a declining birth rate and aging population, Japan will be facing these social problems in a real way soon, but there will be applications across the globe too.
A visualization of HRP-5P's mapping and path planning capabilities (left), and it's computer vision abilities (right). Credit: AIST. (link: https://www.aist.go.jp/Portals/0/resource_images/aist_j/press_release/pr2018/pr20180927/fig2.png && https://www.aist.go.jp/Portals/0/resource_images/aist_j/press_release/pr2018/pr20180927/fig3.png )
HRP-5P goes through a lot of steps to install that drywall, but the researchers broke down the essential steps:
HRP-5P performs a 3D scan of the environment to create a map and detect objects in the vicinity, then approaches the work bench.

The robot leans on the workbench for stability and slides the drywall into its grip one at a time.

It computes a safe path to the wall and carries the drywall over.

It lowers the drywall and stands it against the wall.

Using AR markers that HRP-5P can specially recognize, it picks up tools, in this case a driver.

It holds the board in place for stability, and drives screws/nails into the board to install it.
The future research aims for AIST include expanding the breadth of tasks that robots like HRP-5P can perform autonomously. There are already brick-laying robots and dishwasher-loading robo-dogs out there, and now drywall installers. From addressing labour shortages, synergizing with human workers to vastly speed up construction, or eliminating monotonous tasks for more interesting work, the future of robots is coming sooner than you think. Maybe your next house will have walls installed by HRP-5P!
Source(s):